Conferences are where people gather together to discuss or make an agreement. Thus, the demand for organizing conferences has become rapidly increasing. To organize a successful conference, there are many factors that need to be considered such as venues, plans, equipment, and staff. Staff seems to be the key factor. Event Crew provides professional technical staff for conferences. Let's check out through this post.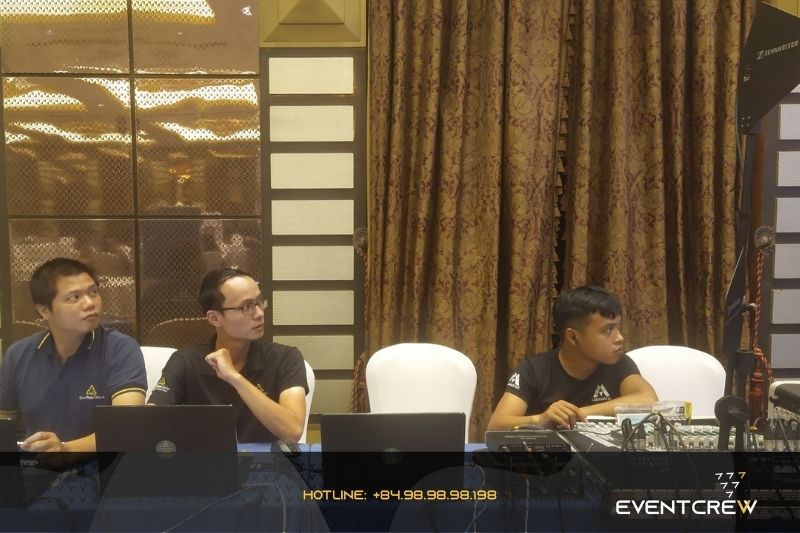 Technical staff's responsibilities
As a technical staff for conferences, their primary duties are to provide audio and visual support for the conference that is being recorded or broadcast. Their responsibilities include discussing the correct set-up needed for a conference and setting up all the proper equipment, such as microphones, video recorders, or broadcasting tools.
Plan and organize the implementation of the events: conferences, events,...
Connect and control the progress, quality of service, and implementation process of providers.
Coordinate with individuals, departments concerned to perform the work of the event.
Perform the work assigned by the event manager and other jobs assigned by the leaders.
Monitoring and updating the progress of projects.
Make reports to managers.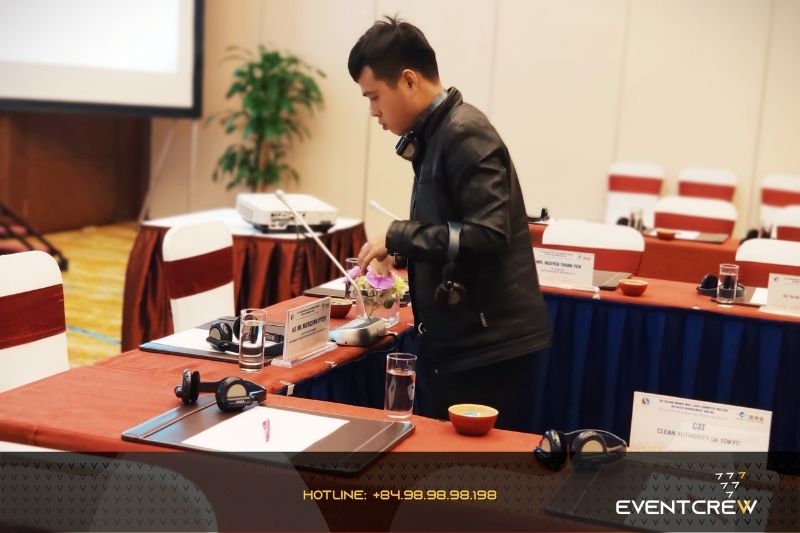 The required qualifications of a conference technical staff
To be a professional technical staff in the conference, there will be many requirements:
Understanding of Tourism - Hotel field.
Have knowledge in the technical field.
The ability to communicate in English will be advance.
Proficient in equipment and specialized software...
Good communicated ability.
Ability to work independently, good teamwork.
Ability to synthesize, analyze, and handle situations.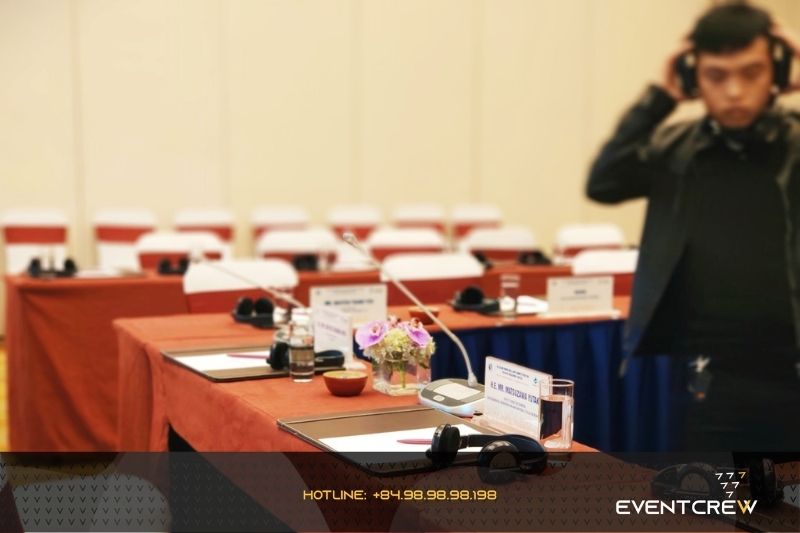 Why do you need to hire technical staff for your conference?
Conference technical staff are considered as the skeleton of the conference. Without them, the conference will lack modernity and technology, making them boring as a spontaneous meeting. Thus, conference technical staff are the people who determine the success of the conferences.
Some organizations, business, or companies will have their own technical staff, who have enough knowledge about technologies but not specializing in event organization. Technical staff who specialize in conference organizing will know how to set up the equipment in the way that's most professional for the conference. Thus, choosing a conference staffing service from a reputable unit will be the best choice.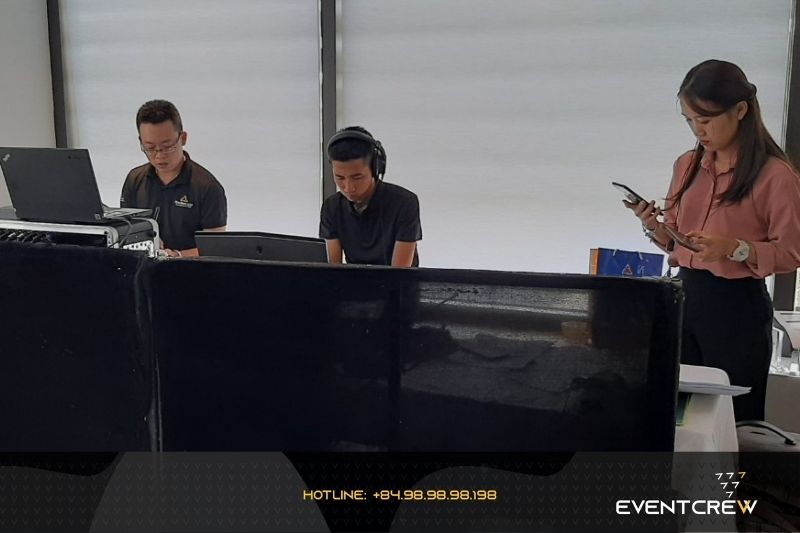 Event Crew is providing professional technical staff for your conference
Event Crew is a leading events agency with teams in Hanoi, Ho Chi Minh City, Da Nang and across the country, we design, plan, and produce engaging events across a broad spectrum for clients spanning many industries. These include major players in the financial services, aerospace, technology, consumer electronics, medical & healthcare, automotive, and the media as well as those in the non-profit sector.
Event Crew has experienced technical staff for conferences who have a full understanding of audiovisual technology and advancements including lighting, audio/video output, rigging, and power. The members of the technical team all have at least 2-3 years of experience within the technical event production/ broadcast environment. At Event Crew, excellent communication and customer service skills are compulsory to build and maintain relationships, so you will be surprised by the serving attitude of Event Crew's technical staff. Besides, the team's productivity is extremely high with the ability to manage many projects at once with varying levels of production.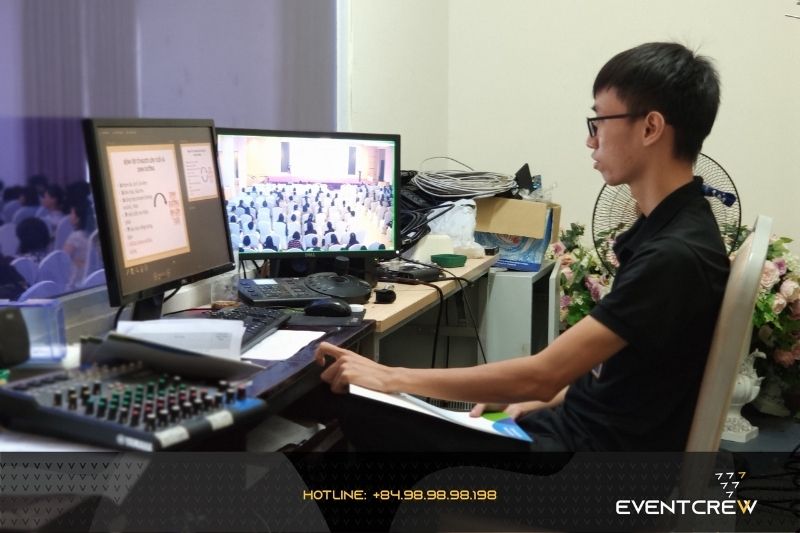 Choosing Event Crew, your benefits will be:
Fast quote and advice
Simple procedure and clear contract
On-time arrival
Full-time support during the conference
Easy payment
The bottom line
Through this post, hope you can find your support unit for your conference. Choosing Event Crew today to have the best service of technical staff for the conference. The Event Crew team is always ready to support. Contact us now via website or hotline +84.98.98.98.198 (Mr. Jackie Han).